Get your copy of the
SASI Report
Learn about the SaaS application security trends shaping today's MSPs.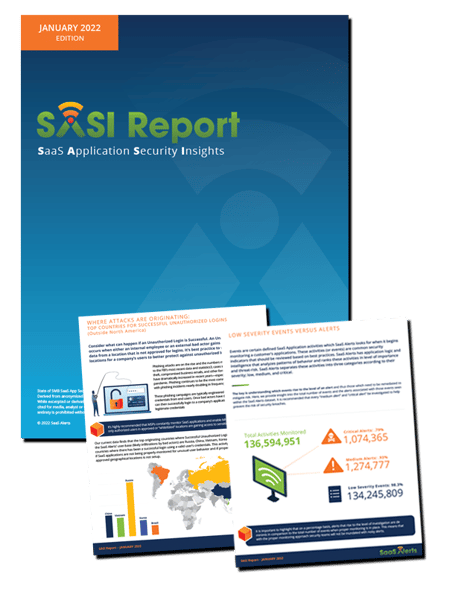 THE SASI REPORT - JANUARY 2022 EDITION
The SASI Report analyzes the current threats, trends and activities of SaaS Application users and provides valuable insights to help MSPs protect the companies they serve.
During the period dating January 1st to December 31st, 2021, SaaS Alerts logged over 136M events and analyzed the SaaS application security records for over 2,000 small-to-mid sized businesses and more than 129,000 end-users.
Access to this unique dataset provides SaaS Alerts a comprehensive and timely view of the current state of SaaS Application Security within the SMB market – and because the SaaS Alerts platform is only available through the MSP channel – this data specifically addresses those SMBs who are served by MSPs.
Overall, the findings in this report emphasize that MSPs must reassess their security posture and strategies and develop new processes and tools to manage customer security in a data environment increasingly dominated by off-premise resources.